Snovom Godom (Happy New Year!) (12/30/03)
Last updated 02/08/04
---
A new year spent at a Russian dacha (summer house) can provide plenty of anecdotes for a cocktail party --- you'll get to hear most of them when we get time for this blog.
Pictures
Some views of Sasha's dacha (Daria's brother's summer house) and surrounding areas. During the Soviet era, it was quite common for people to get a plot of land outside the city for building a summer residence and vegetable garden. The summer residence provided a place to vacation, and Russians were encouraged to farm the plot to obtain additional fruits and vegetables (which were not always available in enough quantity).


While the dacha may provide a wonderful ambiance during the summer, it isn't immune to the harsh realities of Russian winter. Be grateful if your dacha has some sort of heating apparatus, or you're in for a very rough time.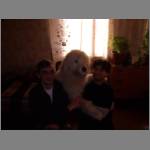 From meat-stuffed pies which look like pigs, to shaggy dogs which easily outweigh you, the New Year celebration in Russia offered many eye-opening experiences. One thing is certain -- the care and lavish treatment that Daria and I received, left us feeling like royalty for a day or two.